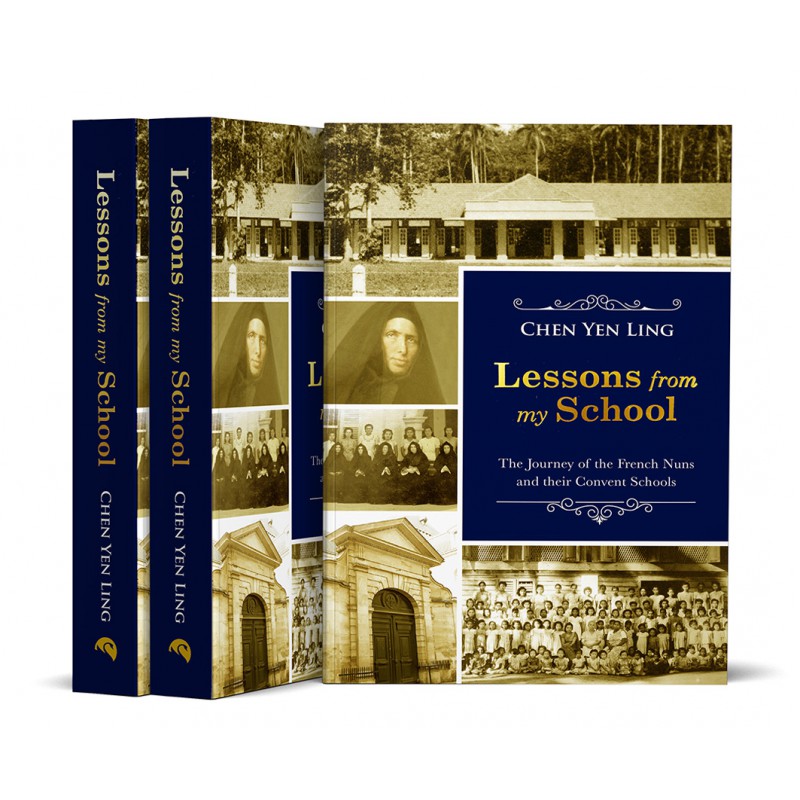  
Lessons from my School
Travel back in time with the enduring stories of the intrepid St. Maur Sisters who brought English language education to Malaysia with their convent schools. Presently called the Infant Jesus Sisters, the teaching nuns began as a unique religious institute founded in France by Minim priest Father Nicolas Barre in 1666 and their expansion overseas started in the 19th century.

Lessons from my School traces the long and purposeful journey of the Sisters from the early days of arrival in Penang led by their indomitable leader − Mother St. Mathilde − to their rapid expansion across the mainland under the dynamic stewardship of Mother St. Tarcisius. In new and uncharted territories, the Sisters strove and persevered through turbulent times.

. . . . . . . . . . . . . .

Chen Yen Ling began research into the history of the Sisters with her alma mater St. Anne's Convent School Kulim, tracing its roots from her hometown
to Penang, Kuala Lumpur and Paris. She uncovered fascinating stories of Kulim's past and its famous District Officer who later became the first Prime Minister of Malaya; Tunku Abdul Rahman Putra was St. Anne's crucial benefactor during its early days at the beginning of World War II, before the
arrival of the Japanese.

The author also shares her own experiences studying in the 1960s and 1970s, a period of radical change to the convent schools post-independence, which
heralded an imminent end to the reign of the nuns and English-medium instruction in their own schools.

Security policy

Delivery policy
Softcover
140 x 210mm
384pp
B&W throughout & 32 colour pages
ISBN 9789671429785
You might also like