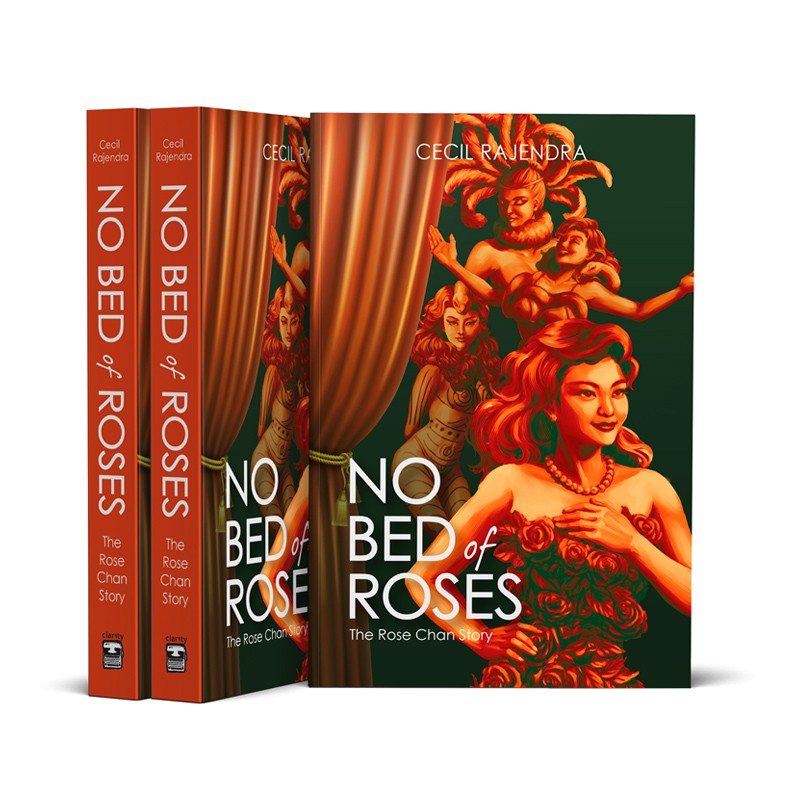  
No Bed of Roses - The Rose Chan Story
The true story of Asia's legendary 'Striptease Queen'.

"All her life Rose had battled poverty, prejudice, moral hypocrisy, racism, puritanism and gender discrimination – and often, but not always, emerged triumphant."

Sent by her impoverished parents from China to Singapore in 1931, six-year-old Rose Chan learned to survive on her wits and bravado. The Flower of Malaya transformed herself into the consummate show woman with her shocking dance moves and snake wrestling acts that took her and her troupe around Malaya and the world.

Behind the glamour, the five marriages, travel and adulation was a life of hardship, sorrow and suffering that threatened to break her but never left her bowed. In her 'retirement' years, Rose returned to the one place she felt happiest – Penang – where she ran her famous Sakura club until her untimely death in 1987.

Lawyer and poet Cecil Rajendra was introduced to Rose Chan in the 80s when she invited him to pen her memoirs. 'No Bed of Roses' charts the remarkable story of Asia's 'Striptease Queen' who was also known as the 'Charity Queen' in her later years.

Security policy

Delivery policy
ABOUT THE AUTHOR
Cecil Rajendra was born in Penang, Malaysia and studied at St. Xavier's Institution, the University of Singapore and Lincoln's Inn, London. He is a practising lawyer and established free legal aid in Malaysia.

Since the publication of 'Embryo' in 1965 by the Regency Press in London Cecil has since gone on to publish 22 other poetry collections. His work has appeared in over 50 countries and have appeared in Time, National Geographic, Asiaweek, Wall Street Journal, Encounter, New Statesman, Poetry International, The Guardian, Asia Magazine, Times Literary Supplement, The Independent, UNICEF, UNHCR and Amnesty International, Index on Censorship & WWF Publications.

His poetry is taught in schools and institutes of higher learning in the UK, Ireland, US, Denmark, Germany, Australia and India.


Softcover
129 x 198mm
224pp
B&W throughout
ISBN 9789671765791
You might also like